Drivezone Driving School Turns at Traffic Lights in Richmond NSW
Richmond NSW has many turns at complex traffic lights.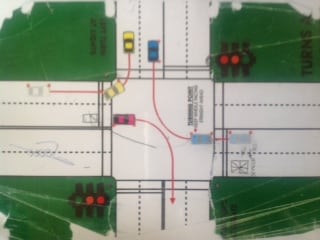 When making turns at traffic lights on approaching the green light you just slow right down to allow for the amber light ensuring you can stop safe behind Stop solid line.
If you are the first car waiting in line to turn either left or right you may proceed out slowly up to the furtherest pedestrian line and stop. You then need to give way to oncoming traffic, traffic turning left and pedestrians. When it is all clear you may make your turn. If whilst waiting in the intersection, the green light goes to amber you must proceed to make the right hand turn as you do not want your car to be caught stationery in the middle of the intersection once the light goes red.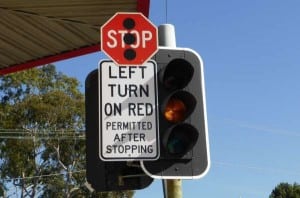 When coming to a set of traffic lights always check the left hand traffic light post as it may have an advisory sign stating left turn on red permitted after stopping. If you come to this sign you must first stop behind the first line closet to you, like when using a Stop sign. Once you have come to a complete stop, you may creep forward whist checking right for traffic and if the traffic is clear or there is a safe gap to your right you may proceed with your left hand turn. Please be aware while you are waiting to turn left, your traffic lights do not go green.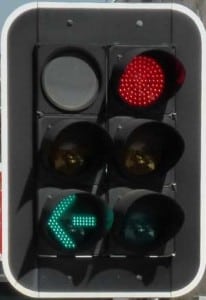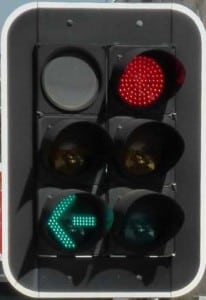 If whilst waiting out in the centre if the traffic single goes amber it is safe to turn on the amber light making sure that no one in front runs the red light and all traffic is clear.
If you have a red arrow traffic light you must wait until it disappears in which case you can move put into the centre and give way or if it goes solid green you may turn.
When taking your Provisional 1 on road driving test at Richmond Roads and Maritime Services the above driving scenarios are extremely common.
To book your Drivezone Driving School Richmond NSW driving lesson call our bookings office on 02 4706 9318 or 0406 977 112 and speak to our receptionist Ami.
Posted on Oct 08, 2014 by DriveZone in Blog, Driving School
---
---
One response to "Drivezone Driving School Turns at Traffic Lights in Richmond NSW"